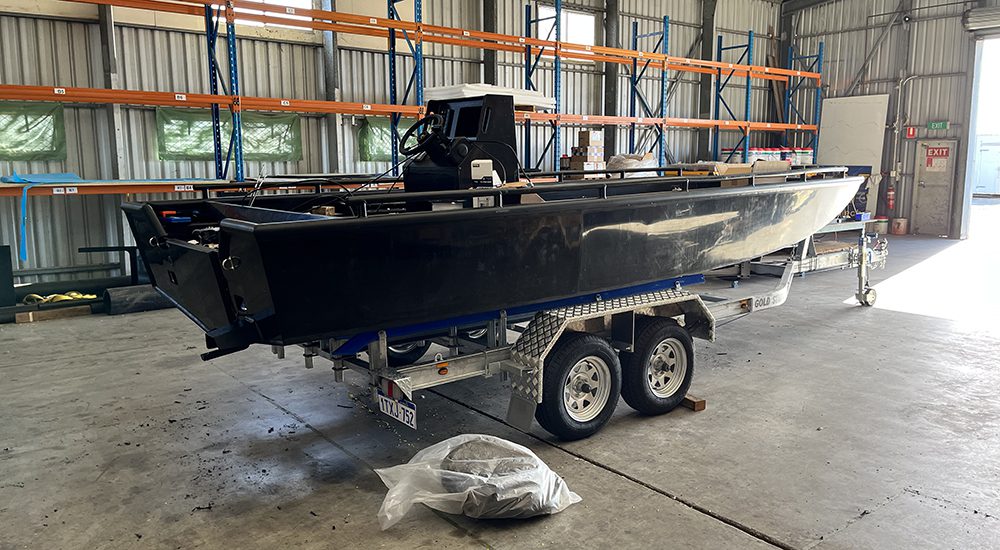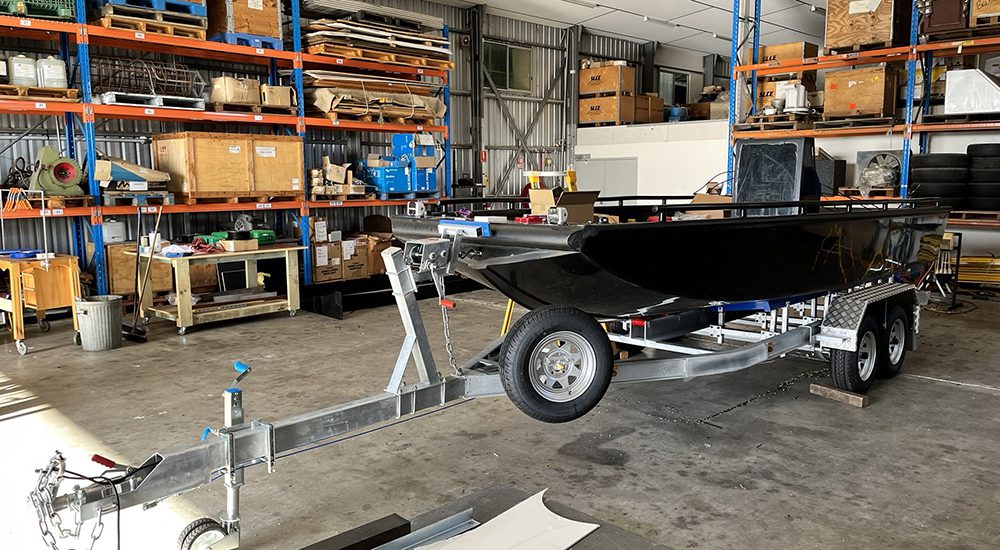 Length (measured) – 5.80m
Beam o.a. – 2.20 m
Draft hull – 0.23 m
Engine power – up to 75 hp
Transom height – 22″ (long shaft)
Hull bottom – 12 mm
Hull sides – 12 mm
Transom – 40 mm
Deck, seats – 10mm
Hull weight – 500 kg
Capacities (Australian Builders Plate):
Max persons – 9 or 810 kg
Max gross load – 1097 kg
Max power – 75 hp or 155 kg
The Versatile Marine VM580 Fast Work Boat is designed and built in Western Australia, from heavy gauge HD polyethylene plating in compliance with AMSA 2D/2E, Australian Builders Plate or CE (module B, category D). Non survey, full survey optional. Lead time 6 weeks from order/deposit.
The VM600-OB is a welded poly workboat suited for inland waters, it can be used for flood rescue, hunting, fishing, light cargo and other (commercial) light duties. The boat is light but extremely durable and unsinkable, made from High Density Poly Ethylene. The hull and benches are filled with approved buoyancy foam providing level flotation when swamped, as per applicable AS/ISO standards.
Another advantage is that the hull does not suffer from corrosion or fatigue cracking issues, such as common with aluminium, and it is truly suited for harsh operating conditions, such as in shallow and unchartered waters, reefs, rocky beaches or riverbanks. On top, HDPE hulls are known to have a very long life span, up to 40 years or more, are fully recyclable, and…… don't need paint.
The spacious cockpit allows for free movement of crew, with a grab rail fitted around the circumference of the boat for additional protection. The deck, seats and foredeck are finished with an anti-skid marine decking. Under the skipper seat the fuel tank is situated, secured with straps to the deck. The console includes a windscreen, protection bar, engine and helm controls, starting and service batteries and storage for fire extinguisher.
The boat will be delivered with an electric and manual bilge pump, battery, anchor and line, mooring cleats, grab rails, bow fender, navigation lights, basic safety gears as required for safe navigation in Australian inland waters.
Options:
– Petrol or diesel outboard motor up to 75hp, including controls and basic instrumentation
– Electric outboard motor with battery pack, including controls and instrumentation
– Poly moulded tank including fittings
– Drop in storage boxes, fish tanks, eski's etc.
– Communication & navigation equipment such as VHF, GPS, fish finder etc.
– T-top / canopy / shade
– Boat cover, cushions
– Boarding ladder
– Vinyl signage or wrapping of hull tops
– Additional protective rubbing strakes on hull side
– Motor guard
– Trailer, galvanised steel or aluminium
– Any other option upon request
Warranty on hull structure 5 years, outfitting equipment 12 months. Financing available upon request.